---
Jungle Experience Koh Phangan 2022 – our favourite!
Almost as famous as its sister parties, the Half Moon Party and Full Moon Party. Known for its carnival atmosphere, Jungle Party Koh Phangan is a party playground where wild creatures of the night strut their wild side on the Jungle dance floor. Here you will find the best Underground House and Techno that Koh Phangan has to offer.
Everything you should know to get ready for the next Jungle Party Koh Phangan
1. Complete Jungle Experience schedule
Plan your trip to the next jungle party this month. Jungle Experience takes place one day before the Full Moon Party, right when the island is at its busiest! Doors open at 10pm and don't stop until you do! There are a lot of other big parties on Koh Phangan. So if you miss the Jungle Experience, no worries at all.  Really every night there is a party on Koh Phangan!
DATES JUNGLE EXPERIENCE 2022
Sunday 16 January 2022

Wednesday 16 February 2022

Wednesday 16 March 2022

Friday 15 April 2022

Sunday 15 May 2022

Monday 13 June 2022

Thursday 14 July 2022

Friday 12 August 2022

Friday 9 September 2022

Monday 10 October 2022

Monday 7 November 2022

Wednesday 7 December 2022

Friday 30 December 2022 –  PRE-NYE
DATES JUNGLE EXPERIENCE 2023
January 2023 (T.B.A.)

February 2023 (T.B.A.)

March 2023 (T.B.A.)

April 2023 (T.B.A.)

May 2023 (T.B.A.)

June 2023 (T.B.A.)

July 2023 (T.B.A.)

August 2023 (T.B.A.)

September 2023 (T.B.A.)

October 2023 (T.B.A.)

November 2023 (T.B.A.)

December 2023 (T.B.A.)

December 2023 – PRE-NYE (T.B.A.)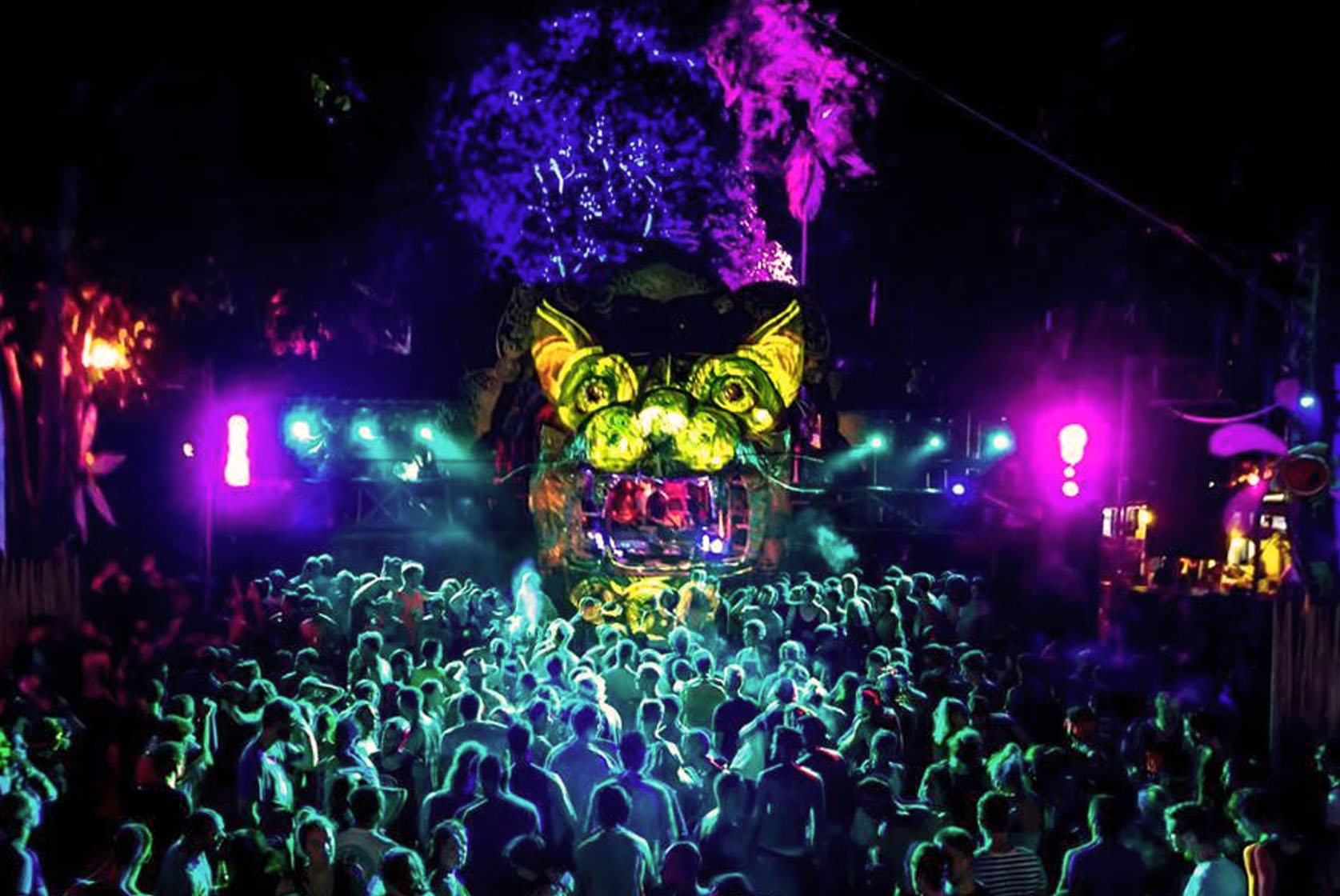 2. Tickets and entrance fees
Tickets for the jungle party Koh Phangan are available at the office at Koh Space. Pick up your tickets anytime between 10:00 am and 1:00 pm from Monday to Saturday.
GENERAL TICKET
Pre-sale: US$ 20,00 / THB 600
At the door: US$ 20,00 / THB 600
3. How to get to the Jungle Party Koh Phangan
There's no airport on the island, so everyone comes by ferry. Ferries are leaving from Surat Thani on the mainland. You can also travel from the nearby islands Koh Samui or Koh Tao. Ferry tickets can be booked in advance via 12go.asia or via local travel agencies.
VENUE AND ADDRESS
Baan Thai Jungle
Ban Tai, Ko Phangan
Surat Thani, Thailand 84280
A lot of companies run overnight buses from Bangkok to Koh Phangan for 450 bath up to 600 baht. This price also includes the ferry. If you decide to fly, flights to Surat Thani Airport generally cost around 1,600 baht if you leaving from Bangkok on Air Asia. Or 2.000 bath if you leaving from Chiang Mai. This including additional taxes and fees. Want to know more about traveling to Koh Phangan and how to get around the island? Read more on our travel page.
4. Hostel and hotel recommendations for Koh Phangan
Koh Phangan is a wonderful place to stay. There's accommodation all over the island. The most (but definitely not all!) of the nightlife is on and around the beach of Haad Rin. For the best party experience, you might want to have a place to stay in this area, so you can be close to the action.
If you looking for a nice hotel or hostel near the jungle party, then we have 6 of our favourites here for you! Make sure you book in time. Around the jungle party often all (the nice) hotels and hostels nearby are fully booked. The closer you get to the actual night of the party, the more you'll need a miracle to find something — at any price range ;).
5. About the venue, vibes and stages
6. Facts and figures about Jungle Experiance
Deep in the Koh Phangan jungle, an astonishingly magical Party Wonderland awaits you! Jungle Experience is an underground festival of sound and light, where the best DJs on the planet go Wild in the Jungle! Strictly underground house & tech, ranging from deep house, tech house and progressive. Mixed by Jungle's resident DJs and regular international guests. Jungle welcomes dancers, performance artists and entertainers from all around the world. There is an professional fire show performance at every event.