---
Full Moon Party Thailand 2022
Since the start, the Full Moon Party on Koh Phangan turned out to be one of the biggest party events in Thailand. As a result, every month there are about 30,000 party people coming together from all around the world. Therefore, we would like to give you all the important information about one of the largest beach parties in Southeast Asia.
Video: impression of  The Full Moon Party in Thailand.
Of course, it's primarily about the dates, but also about important safety info and about getting to Koh Phangan, as well as the Full Moon Party itself. In this article you read all important things that you should need yo know when going to the next Full Moon Party on Koh Phangan. Let's get started!
1. Starting with the complete Full Moon Party schedule
As the name would suggest, the party is on the night of the full moon. However, as there are sometimes important Buddhist holidays on these days and the consumption and sale of alcohol is banned, the date of the Full Moon Party is postponed by one to two days.
If you not around that time, no worries! There are still a lot of great parties with the same vibe where you can go. For example the Half Moon Party, Black Moon Culture, Jungle Experience, Eden Garden and the Sramanora Waterfall Party. In other words, really every night there is a party on Koh Phangan! You can read all about these parties on this. website as well. Check out the agenda for a complete list of parties when you around Koh Phangan.
DATES FULL MOON PARTY 2022
Monday 17 January 2022

Thursday 17 February 2022

Thursday 17 March 2022

Saturday 16 April 2022

Monday 16 May 2022

Tuesday 14 June 2022

Friday 15 July 2022

Friday 12 August 2022 (*changed date)

Saturday 10 September 2022

Tuesday 11 October 2022

Tuesday 8 November 2022

Thursday 8 December 2022

Saturday 31 December 2022 –  NYE
DATES FULL MOON PARTY 2023
January 2023 (T.B.A.)

February 2023 (T.B.A.)

March 2023 (T.B.A.)

April 2023 (T.B.A.)

May 2023 (T.B.A.)

June 2023 (T.B.A.)

July 2023 (T.B.A.)

August 2023 (T.B.A.)

September 2023 (T.B.A.)

October 2023 (T.B.A.)

November 2023 (T.B.A.)

December 2023 (T.B.A.)

December 2023 – NYE (T.B.A.)
People usually start to arrive for the party around 10 pm. Although it doesn't reach its busiest until around midnight. The party is all night long, until the early hours of the morning.
Travel Tip: The best months to attend a Full Moon Party are between December and April. These months are high-season in Thailand, with December usually being the busiest time of year. By far, the biggest party is on New Year's Eve when the island reaches its peak.
2. Tickets and entrance fees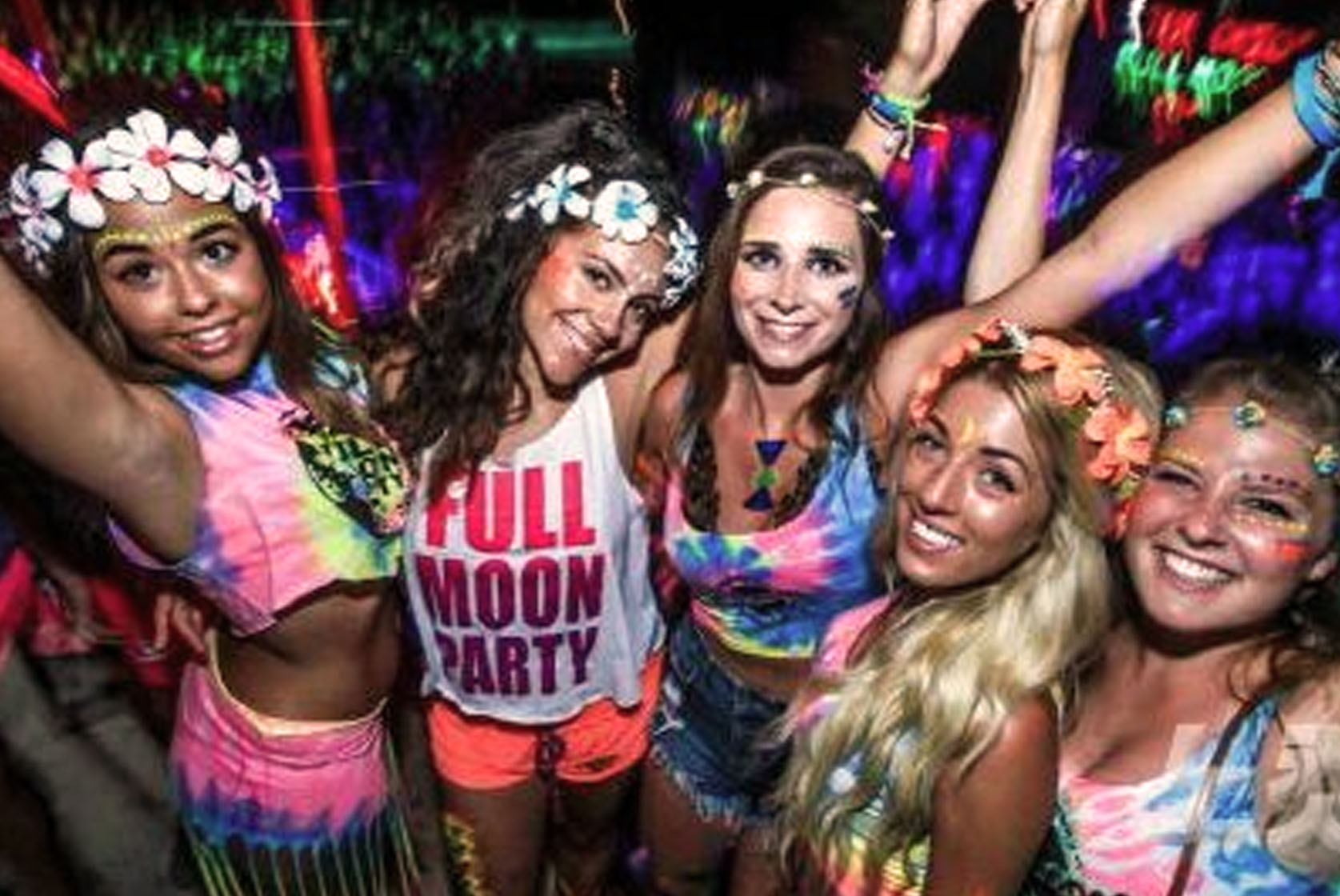 Tickets for the Full Moon Party Koh Phangan are available at the entrance of the party. This is at the beach of Haad Rin. Here you will receive an official Full Moon Party wristband. The wristband gives you unlimited acces to the beach party for the whole night. More ticket info you'll find here.
GENERAL TICKET
Pre-sale: US$ 3,00 / THB 100
At the door: US$ 3,00 / THB 100
VIP TICKET
Pre-sale: not available
At the door: not available
3. How to get to the Full Moon Party Thailand
Above all, plan your trip to the next Full Moon Party this month in on time. That is to say, there's no airport on the island. Therefore everyone comes by ferry to Koh Phangan. Ferries are leaving daily from Surat Thani on the mainland. You can also travel from the nearby islands Koh Samui or Koh Tao. If you would like to skip (high) charging fees and waiting lines, we recommend to book your ferry tickets in advance via 12go.asia.
VENUE AND ADDRESS
Haad Rin Beach
Ban Tai, Koh Phangan
Surat Thani, Thailand 84280
A lot of companies run overnight buses from Bangkok to Koh Phangan for 450 up to 600 baht. This price also includes the ferry. If you decide to fly, flights to Surat Thani Airport generally cost around 1,600 baht if you leaving from Bangkok on Air Asia. Or 2.000 bath if you leaving from Chiang Mai. This including additional taxes and fees. Read more about traveling to Koh Phangan and how to get around the island.
4. What kind of music they play at the Full Moon Party
Each bar has it's own DJs. So you will hear all types of music loudly blasting onto the beach every few feet. The beach itself is lined with people selling the (in)famous buckets. Fire dancers putting on shows. And little booths selling glow-in-the-dark face paint. By the end of the night you will see people passed out on the beach… and lost flip-flops littering the beach looking for new owners.
5. Best hostel and hotel recommendations for Haad Rin Beach
Koh Phangan is a wonderful place to stay. There's accommodation all over the island. The most (but definitely not all!) of the nightlife is on and around the beach of Haad Rin. For the best party experience, you might want to have a place to stay in this area, so you can be close to the action.
If you looking for a nice hotel or hostel near Full Moon Party, here we have our favourites for you. Most importantly, make sure you book in time. Around the Full Moon Party often all the nice hotels and hostels nearby the party are fully booked. The closer you get to the actual night of the party, the more you'll need a miracle to find something. To clarify, that means at any price range ;).
6. Facts and figures about the Full Moon Party
The Full Moon Party has been around on Koh Phangan since the late 1980's, nobody knows the exact year. However, it has been a magical period in the history of the Full Moon Party Koh Phangan. About 30 people bore witness to the first edition of the Full Moon Party on Haad Rin Beach and to the magic that surrounded it. The story goes that these few travelers decided to celebrate 'the most beautiful view of the full moon on earth'.
Since then, every time during the full moon, the crescent shaped beach of Koh Phangan is transforming into a fairy tale dominion. Thousands of people are coming together to enjoy all kinds of music. From EDM, psychedelic trance and techno, to drum & bass, R&B and reggae. Until sunrise, enchanting sounds are to be heard from behind every palmtree on the beach, to far in the jungle.